Scratch can make your wedding dreams come true. Contact us for a consultation today!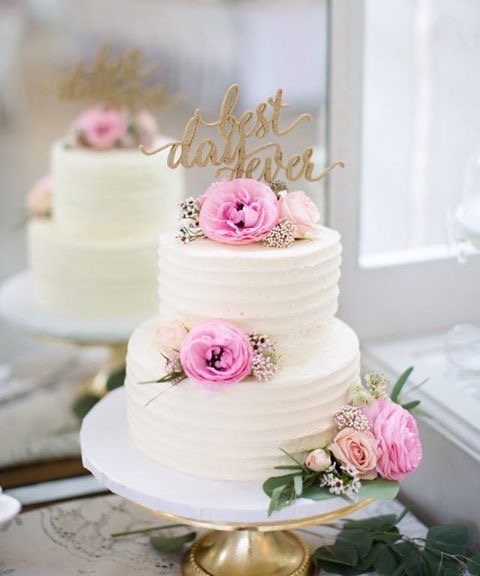 Small Cut-Cakes | Stacked Wedding Cakes
Buttercream with Fondant Accents starts at $4.75 per serving.
Fondant Covered cakes start at $5.75 per serving.
The final price is based on the complexity of the design.

Volume Discounting for Wedding Cupcakes
5% off - 8 dozen or more
10% off - 17 dozen or more
15% off - 25 dozen or more

Cupcake Tower Rentals
2 tier - $10 rental fee - holds 17 cupcakes or 30 minis
($25 refundable deposit)
3 tier - $20 rental fee - holds 35 cupcakes or 65 minis
($50 refundable deposit)
4 tier - $25 rental fee - holds 55 cupcakes or 115 minis
($75 refundable deposit)
5 tier - $35 rental fee - holds 85 cupcakes or 185 minis
($100 refundable deposit)

**A refundable bond of $25.00-$100.00 applies for stand hire, depending on size of the stand. When stand is returned in the same condition it was rented in, 100% of your deposit will be refunded.**
What should I bring to my consultation?
You should bring one or more of the following...cake pictures or ideas of cakes that you had in mind - color swatches - pictures of bride's dress/bridesmaids' dresses - flower info - contact names and telephone numbers of your wedding vendors.

Do you offer taste testing for wedding orders?
Yes. We offer one free dozen cupcakes of whatever flavors are available in-store the day of your consultation. Consultations must be scheduled in advance. If an additional consultation/taste testing is needed you will have to purchase the additional cupcakes.

Is a deposit required to place an order?
Yes. A 50% non refundable deposit is required before a date can be held. Your wedding is not considered booked until we have a 50% non-refundable deposit. Final payment is due 30 days before the event date.

Is there a delivery/set-up charge?
Yes. This covers the time and distance involved in delivering and setting up your order. The delivery charge is $75.00 within 30 miles of our Bakery (may be more depending on the time involved in setting up your display). There is an additional 55 cents per mile charge outside of Lancaster County, Pa.

Can I pick up my wedding or specialty order?
Yes, you may choose to pick up your order. Please be advised that we are not responsible for any cupcakes or cakes that are picked up and damaged after they leave Scratch.

If cupcake stands or other equipment are used for my event, do I need to return these items?
Yes. We charge a rental fee and take a deposit for the replacement cost of any of our equipment used. When all equipment is returned to us clean and in good condition, we will return your deposit to you. We ask that you return any equipment within 3 days of the event. If equipment is not returned within 3 days of your event date, your deposit will not be returned in full.